Lüftung Geflügelstall | Das ideale Klima
an heißen Tagen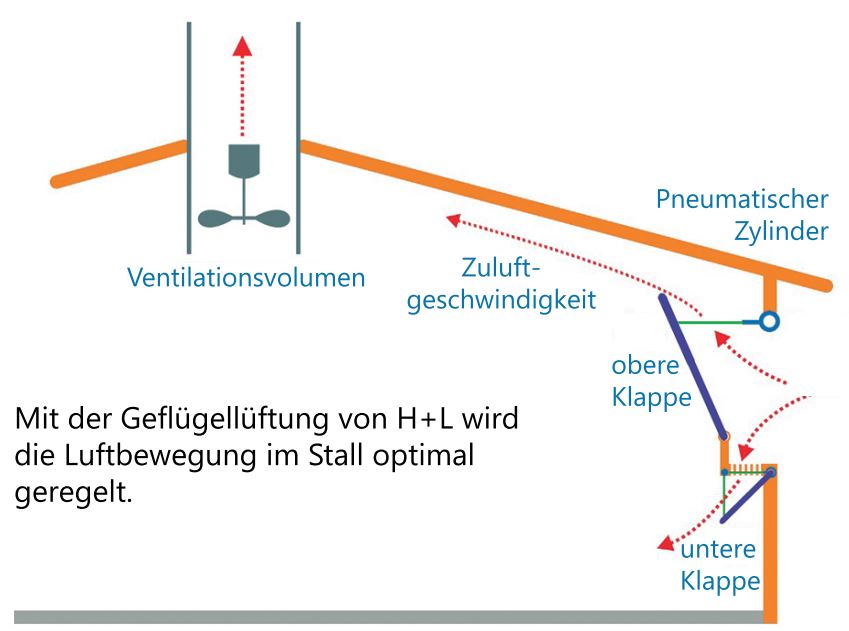 Summer poultry ventilation
Pneumatic, fail-safe barn ventilation controlled by negative pressure sensors and making use of large transparent air inlet and Coanda effect. Additional air inlet targeting the lower section of the poultry barn.
Function overview:
Additional summer air inlet (lower inlet) for high outside temperature

High power ventilation with inclined board, pneumatically controlled (upper inlet)
Fully automatic ventilation according to the principle of vacuum regulated ventilation 
VRV ventilation
Operational advantages:
Cooling and ventilation of the barn at floor level

No stagnant air just beyond the walls

Best possible cooling for the birds in very hot conditions
With Summer poultry ventilation you are armed against the weather extremes of the 21st century and the threatened safety of your animals. 
H+L
SIEMENSSTRASSE 15
48488 EMSBÜREN
GERMANY
Tel: +49 (0)5903 939 60
Fax: +49 (0)5903 72 73
info@hplusl.com
7:00-16:00
7:30-16:00
7:30-15:00